Integreat is a service designed to help professionals with a neuro-diverse personality to be able to fit into new workplaces and cultures without hesitations and with maximum comfort. The goal of the project is to look at the upcoming professional traction of people with extreme personalities and higher output and help make the work experiences better. 
In today's work culture, neuro-diverse people get opportunities due to deliberate inclusion but it is never followed by systemic help and support. This leads to extreme stress, lower productivity and loss of hope and support in the organisations.
It was mainly focused on conducting field research without physical presence, considering the sensitivity of the topic. mapping the current scenarios and journeys, working on service touch points and creating the visual deliverables for the same.
Team - Aditi Soni, 

Changxin Zheng, Hongyu Wang, Huizi Zhang, Peter Williams
"
Autism is a part of who the person is and to take away the autism is to take away the person."
Neuro-diversity is a concept where neurological differences are to be recognised and respected as any other human variation. Neuro-diverse people have an above average performance in many areas of work and can provide good results only when supported well in the areas they are below average. Therefore, to help the extreme personality that they have, there is need for

support in order to help them flourish well in their professional lives and remove the cycle of disappointment.​​​​​​
There is a gap in holistic professional opportunities and inclusive working conditions and this gap will only increase in the future, if not corrected now.

The goal was to understand the opinion of both extremes & mainstreams to bridge the gap in the best possible yet inclusive manner.
The research for this project involved gathering data through various digital sources and techniques due to the personality of our primary user group. Apart from the primary user, we also focused on getting information from various people and organisations that are working close to the space of neuro-diversity like Nationwide, National Autistic Society, IPSE etc. along with some successful professionals and freelancers with a neuro-diverse as well as a neuro-typical personality. A lot of our qualitative and quantitative data also came from user surveys and story share platforms where similar people helped other through advices and opinions on the professional obstacles they face.
This was under three elements of the existing system, namely, the individual, the environment and the people at work. The intervention areas were then under awareness, adjustments, culture and processes.
We realised a common element of disappointment at the transition from getting to a job to starting work and started looking at ways to eliminate this space of anxiety and disappointment.
How might we
eliminate anxiety and fear on the unknown on their first day at work?
Recreating Integreat, an on-boarding experience for new neuro - diverse employees and making it more welcoming, fruitful and wholesome.
​​​​​​​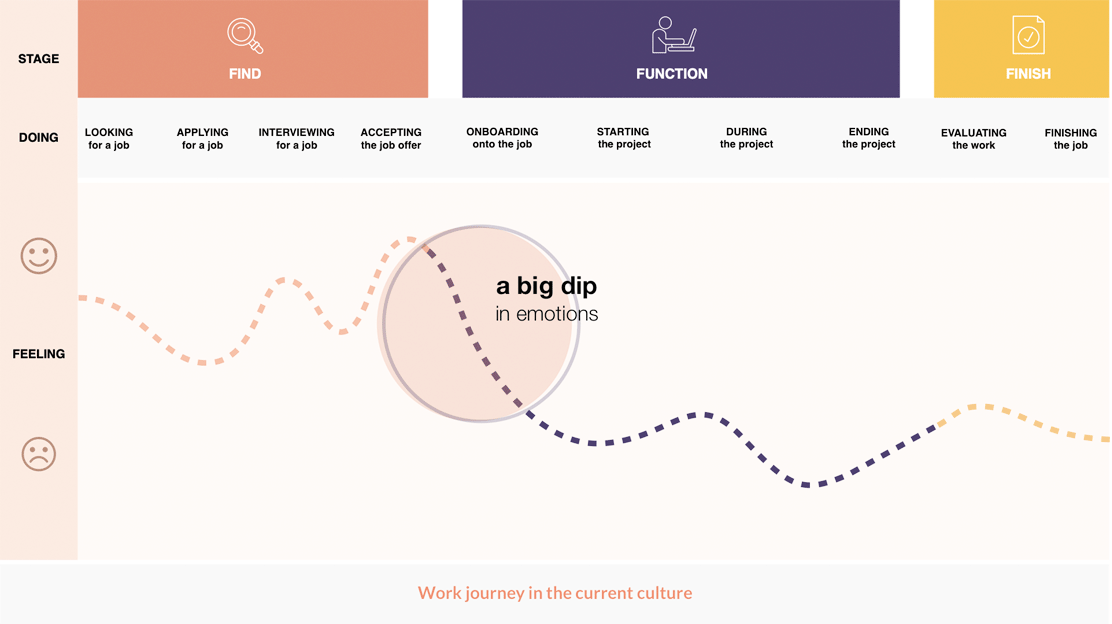 Understanding the solution
The core principle is creating a prepared atmosphere for everyone involved in the life of the new employee.
This service wholly focuses on creating an inclusive way of co-working, based on education, adjustments and acceptance. It has various elements and features depending on what kind of user is accessing it. The entire service is broken down into several digital and physical aspects, used based on the scenario the team is in to create wonderful work cultures!
Interface design and user journey through the service.
Service journey for Integreat.
Our goal is to start by implementing on user groups at the extremes but also be careful about how to expand it to the mainstreams and keep it as inclusive as possible through incorporating changes in interactions via a set of incremental behaviour nudges.